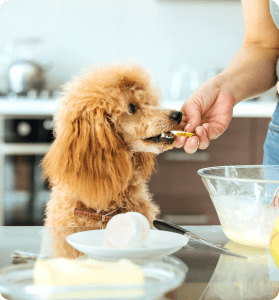 Nutritional Counseling
Ever heard the expression that "you are what you eat"? Well, the same is true for our pets. Proper daily nutrition will go a long way in keeping your pet healthy by bolstering the immune system and supporting normal development in younger animals.
Every pet's nutritional needs are different, based on age, breed, health conditions, and lifestyle factors—which can make choosing the right pet food complicated. For example, larger breed dogs have different nutritional needs than smaller breeds, and puppies and kittens should eat much differently than most adult dogs.
Did you know estimates indicate that approximately half of all pets in the United States are considered overweight or obese? Pets that are overweight face many of the same medical problems faced by people who overeat. Diabetes, high blood pressure, kidney disease, and arthritis can all strike overweight people as well as pets. Sadly studies have shown overweight pets live 2-3 years less than their normal-weight peers. Our doctors and staff have years of experience in determining the proper diet and portions for pets.
At Lakewood Vet Center our veterinarians and staff can take the guesswork out of feeding your pets by advising you about what's right for your animal. Have questions or concerns about what your pet is eating? Call us at 214-826-4800.