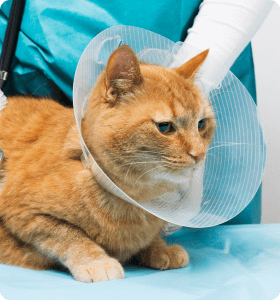 Surgery
Surgery is often the most effective way to treat many serious injuries and disorders, and Lakewood Vet Center is proud to offer a full range of surgical services ranging from standard spaying and neutering to more advanced procedures. When it is necessary for your pet to have surgery ranging from standard spays and neuters to more complicated issues, every precaution is taken for your pet's safety, health, and comfort. Our doctors and technicians have years of surgical experience and use the latest in medications and equipment to ensure your best friend's procedures are as safe as possible.
For pets who have complex surgical cases, our hospital works closely with local Surgical Specialty Hospitals so your furry companion gets the best care and access to the most modern surgical techniques and equipment when needed. We offer surgical services including:
Soft tissue
Orthopedic
Dental
Biopsies/mass removal
Foreign body removal
Ophthalmic
Urogenital
Patient safety and comfort is our main priority. Our experienced medical team provides skilled pain management during and after all surgical procedures, ensuring your pet recovers quickly and with minimum discomfort.
We understand that surgery is a stressful time for any pet parent, and we're available every step of the way to answer questions, walk you through the process, and put your mind at ease. If you're considering veterinary surgery for your pet, please contact us to schedule an introductory consultation by calling 214-826-4800.